The research station's official name is the Kenya Research Station under the Center for Infectious Disease Research in Asia and Africa, Institute of Tropical Medicine, Nagasaki University. It also serves as the African Education and Research Station, Nagasaki University Office for Global Relations.
It was approved in 2005 and has been set in the Kenya Medical Research Institute (KEMRI). KEMRI has a long history with Nagasaki University.
History of the Institute of Tropical Medicine's work in Kenya, Africa
The Nagasaki University Institute of Tropical Medicine (NUITM or NEKKEN) in Africa dates back to when the name of NUITM was the Research Institute of Endemics.
At that time, the Ministry of Education, Culture, Sports, Science, and Technology (MEXT) considered integrating and abolishing research institutes under its jurisdiction. On the advice of Dr. Shuji Hasegawa, the first president of the Japan Association for African Studies, the Institute decided to have Dr. Kaoru Hayashi, a lecturer at that time, participate in the 1964 Kyoto University East Africa Scientific Research Team (headed by Professor Kinji Imanishi). After the successful completion of this dispatch, the following year, 1965, we dispatched the East Africa Academic Survey Team (Captain: Assistant Professor Katamine), and in 1966, the second East Africa Academic Survey Team (Captain: Director Hideo Fukumi), which marked the beginning of the Institute's involvement with Africa. Then, in 1967, the Institute's name was changed from the Research Institute of Endemics to the Institute of Tropical Medicine. It began to engage in research on tropical diseases overseas.
Furthermore, in 1966, the Overseas Technical Cooperation Agency (OTCA: the predecessor of the present Japan International Cooperation Agency (JICA)), which determined the relationship with Africa, especially Kenya, started a major project to dispatch a medical team to the Rift Valley State Hospital in Nakuru, Republic of Kenya. This project was started as the first project of Japan's technical cooperation to developing countries, based on a request from the Republic of Kenya's government to dispatch a medical team to Japan immediately after its independence (Kenya became independent in 1963). Initially, Nagasaki University sent four doctors and two nurses and continued to dispatch medical teams for the next ten years. The medical team became the core of medical treatment at the hospital. It gradually shifted to a comprehensive research system that included basic medicine such as biochemistry, bacteriology, and pathology. In the end, a total of 34 doctors, nurses, and laboratory technicians (including eight from the Nagasaki University Institute of Tropical Medicine) were dispatched until 1975. These activities were the subject of Masashi Sada's novel (later made into a movie), "The Lion Who Stands in the Wind.
Based on the successful experience of this project, the Ministry of Health of the Republic of Kenya submitted a request to Japan for the establishment of a tropical medicine research institute with a clinical department focusing on basic research. In 1979, a technical cooperation project on countermeasures against infectious diseases was initiated by JICA, led by Professor Hayashi. This technical cooperation project on infectious disease control in Kenya went through five phases and was completed in 2006.
In the meantime, the Institute of Tropical Medicine's activities in Africa include: participation in the WHO's pox eradication program in Ethiopia (Dr. Kimura); research on schistosomiasis in Kenya (Prof. Katamine et al.); research on Kaposi's sarcoma and related diseases (Prof. Itakura et al.); research on animal sleeping sickness in Kenya (Associate Prof. Fukuma et al.); Uganda, research on opportunistic infections associated with HIV / AIDS infection (Prof. Matsumoto et al.); Tanzania, research on the control of schistosomiasis in agricultural development projects (Prof. Shimada); Zimbabwe, JICA project on the control of schistosomiasis (Prof. Shimada). Uganda, research on opportunistic infections associated with HIV / AIDS infection (Prof. Matsumoto et al.), Tanzania, agricultural development project to combat schistosomiasis (Prof. Shimada), and Zimbabwe, JICA project to combat schistosomiasis (Prof. Monji et al.). However, research activities in Africa by the Institute of Tropical Medicine have changed drastically with the establishment of an education and research base in Kenya in 2005.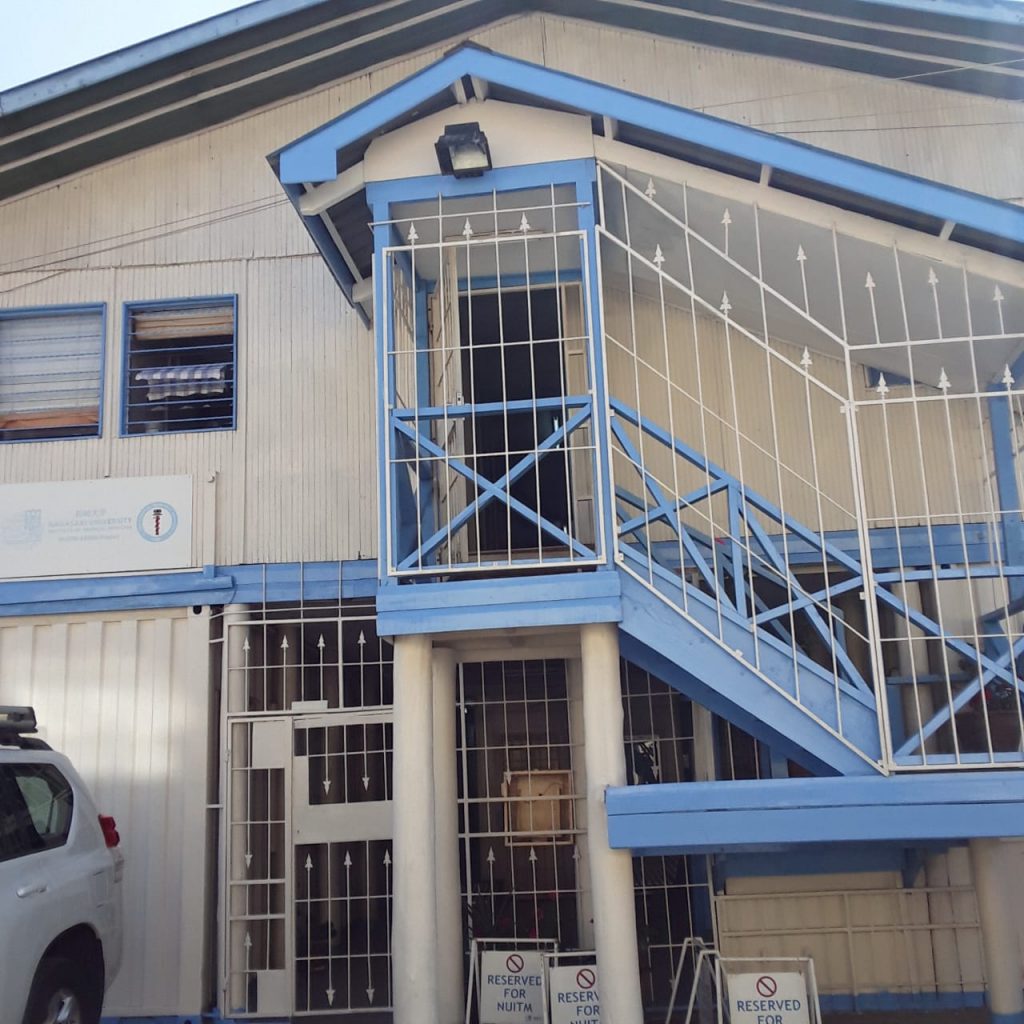 Building the Foundations for a New Center for Education and Research: Phase 1 (FY2005-2009)
The dispatch of experts by JICA (the purpose of which was to transfer technology and not to conduct research activities) and research activities funded by research grants had limitations in researching the field over a long period of time. The establishment of a research field and laboratory in Africa was a long-cherished dream of the Institute of Tropical Medicine. At that time, the decision was made to establish a research center in Kenya in 2005 under the Special Education and Research Funds (Collaborative Research Project) of the Ministry of Education, Culture, Sports, Science, and Technology (MEXT), which aims to support national universities that have become independent corporations. This project, initiated in collaboration with the Kenya Medical Research Institute (KEMRI), aims to advance research on emerging and reemerging infectious diseases and tropical diseases, conduct long-term, continuous and extensive research in collaboration with local researchers, educate young researchers in the field, and provide development assistance to the local population through collaboration with JICA. The project's purpose was to provide returns to the local people through development assistance in collaboration with JICA.
In September 2005, a memorandum of understanding was signed between Nagasaki University and KEMRI. The center's establishment began with a room provided by the KEMRI Centre for Microbiology Research (CMR). Simultaneously, the field's selection was carried out, and four containers were used to build offices and some laboratories. A BSL-3 (Biosafety Level 3) laboratory was also set up in the CMR.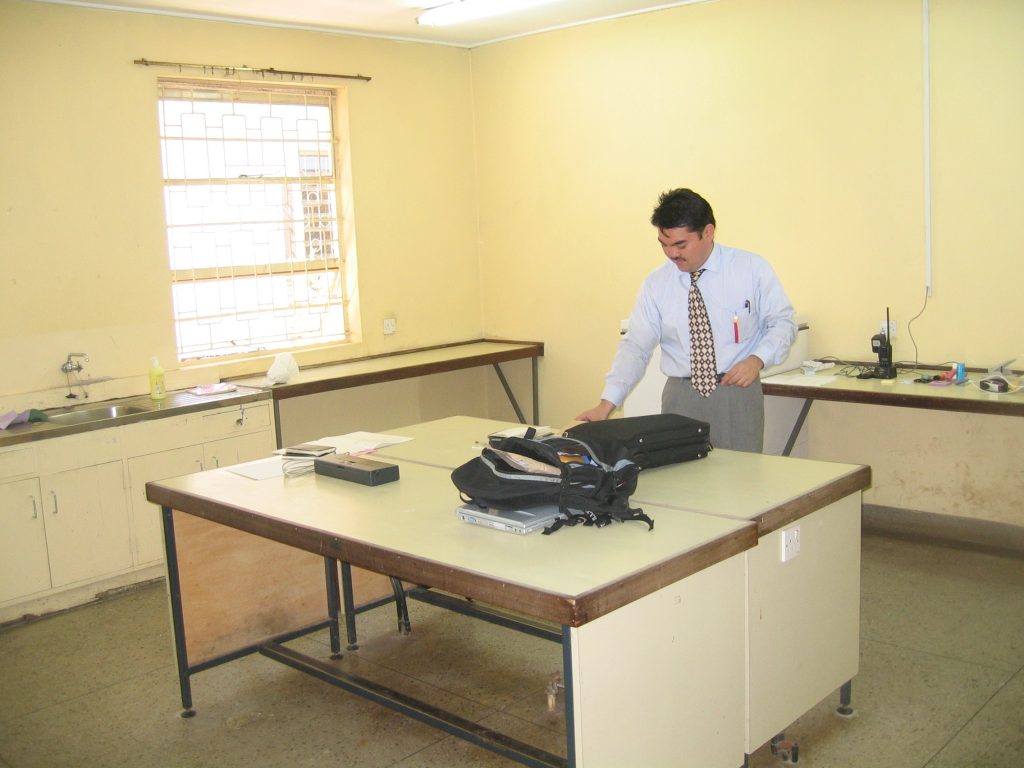 Two field research infrastructures have been established in Mbita District, Lake Victoria, where malaria, schistosomiasis, and HIV infection are major problems. The first is the Health and Demographic Surveillance System (HDSS), a community-based epidemiological research platform that registers all residents of a defined study area and their dynamics (births, deaths, migration, etc.). In 2010, a similar system was launched in the Kwale district on the Indian Oceanside. The second is the Mosquito Surveillance System (MSS), which monitors malaria-carrying mosquitoes. This is a system that regularly updates information on vector mosquitoes and mosquito nets resting in houses. Also, a system for collecting related information such as rainfall and Lake Victoria's water level has been constructed. Professor Minakawa was in charge of these systems, and they are still in operation.
In line with the field development, as a community development activity with field residents, we started a community and human resource development project in Mbita district in December 2008 to support healthcare services and improve healthcare conditions. We installed solar systems in medical facilities, provided health and hygiene education to residents by residents, conducted school health programs in community-based elementary schools, and provided small loans to resident groups to improve their income.
Development of research based on education and research centers: Phase 2 (FY2010-2015)
Since 2010, the center has been operated and developed with a grant-in-aid for operation and special expenses (for nationwide joint use and implementation of joint use).
In the second period, the foundation for research activities was already in place in the first period. As a result of not only allocating operating subsidies to maintain the foundation but also allocating a large number of research funds to research activities, we were able to obtain external funds such as SATREPS (International Science and Technology Cooperation Program for Global Issues) and various research funds (Grant-in-Aid for Scientific Research, etc.), which led to the expansion of our activities. This was the period when our activities expanded. We also implemented a school health project as part of JICA's grassroots technical cooperation program.
Maintaining and operating the infrastructure for an education and research center (FY2016- FY2021)
In February 2021, the JICA Grassroots Technical Cooperation Project "Sustainable Sunnami Infection Control Project in Homa Bay, Kenya (Grassroots Partner Type)" started.
In FY2020, the Nairobi Research Station played a leading role in the "Planetary Health Africa-Japan Strategic and Collaborative Education (PHASE) Program supported by the "JSPS Inter-University Exchange program," an international education collaboration support project to develop global human resources that can play an active role internationally, strengthen the global development capability of university education, and strategically accept Japanese students to study abroad and foreign students to study in Japan. The program was applied and taken with a collaboration of Nagasaki University, Kenya Medical Research Institute Graduate School, Jomo Kenyatta University of Agriculture and Technology, Kenyatta University, and Maseno University. The program will actively promote exchanges between young people in Kenya and Japan and develop human resources to serve as bridges based on planetary health.
In FY2021, we achieved the posting of one faculty member (professor) to Kenya under the organizational development project by the Ministry of Education, Culture, Sports, Science and Technology (MEXT), and as for the laboratory development project, through the basic equipment development project "Integrated Analysis System for Tropical Infectious Diseases in the Age of With-COVID-19, funded by MEXT, the laboratory functions of this center have been improved.
New Exploration as an Education and Research Center (FY2022- present)
From FY2022, the center is operating and developing new education and research activities with funding from the Ministry of Education, Culture, Sports, Science and Technology's "Project for Cutting-edge Research and Next-generation Human Resource Development for the Control of Infectious Diseases Using Collaborative Infrastructure."
The new SATREPS (Science and Technology Research Program for Global Issues) project, "Project for Integrated Research and Development towards Control and Elimination of Schistosomiasis" (PI: Prof. Shinjiro Hamano) using the Nairobi Research Station's infrastructure, was adopted in 2022 leading to further development of new research based on the Kenya Center. The project is now under preparation to have a Record and Discussion (R&D) between the Japanese and Kenyan governments.
Cooperation with JICA
The University has been cooperating with JICA in the ABE Initiative for Human Resource Development for Young Kenyans, the dispatch and acceptance of international students through the JICA Project for Human Resource Development for Countermeasures against Infectious Diseases (PREPARE Project), and the Grassroots Technical Cooperation Project. Also, Nagasaki University signed a comprehensive cooperation agreement with JICA in December 2019.