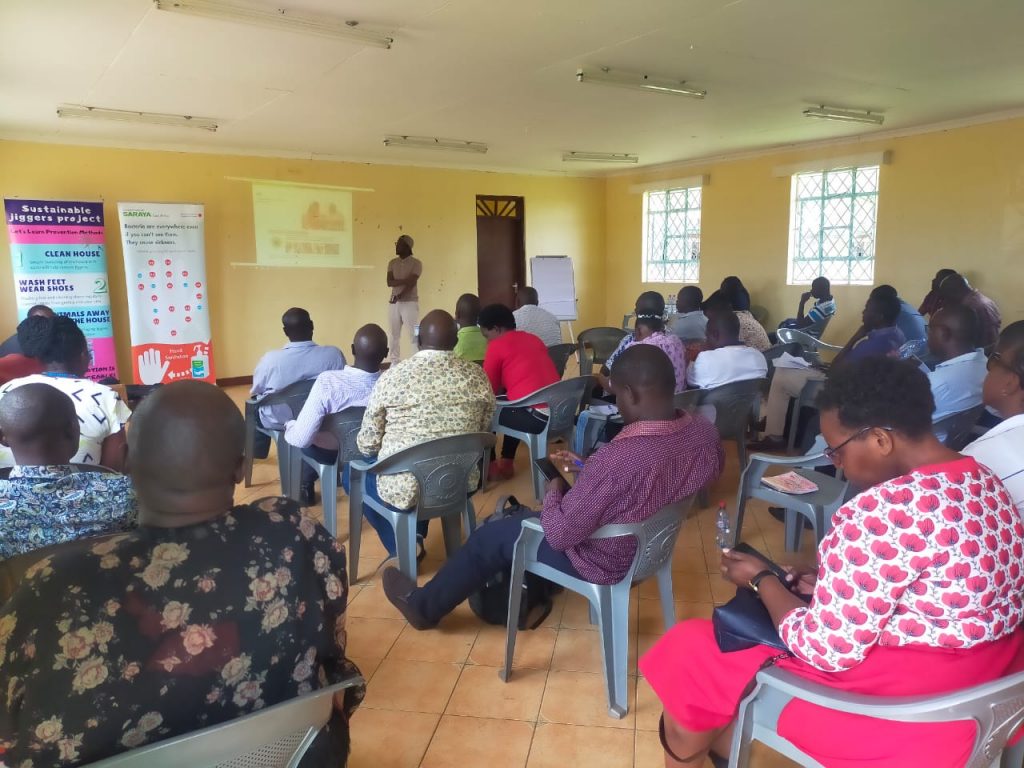 The main objective of this project is to reduce the prevalence of Tungiasis in both Ndhiwa and Suba-South Sub-counties by 2026.
JICA-NUITM together with the Ministry of Health, Homabay –County are geared towards this.
With this in mind, a refresher training for all facilities in charge of both sub-counties was done on the 14th and 15th August 2023.
The attendance was good with Ndhiwa having 40 facility incharges Suba-south 25 participant facility incharges attending.
Sub-county Public Health and the Medical Officer Dr. Nicodemus Odundo and Dr. Ray Kajwang.did the facilitation.
The objective of the meeting was to;
To conduct a refresher training for all the facilities in charge in Ndhiwa and Suba-south sub-counties.
The main objective of these trainings was to remind the facility in charge about the project and what is required of them both by the MOH and Nagasaki University.
The training was also to disseminate information on the interventions used i.e. Potassium permanganate and NYDA that are in the Kenyan treatment guideline for Tungiasis treatment.
The refresher training was also to remind the facility in charge of the safest way to conduct surgical treatment for infected patients and also ensure adequate reporting is done in MOH 514, MOH 515, MOH 705, and MOH 708.
This meeting had a way forward as follows;
The charges would give feedback to other staff about the training and how to report jigger cases
They would also try to identify and manage cases
Sensitization to the community about treatment and prevention of jiggers.
Conclusion
Both teams concluded to use the left-lined numbering style to avoid mis documentation during MOH 705 reporting.