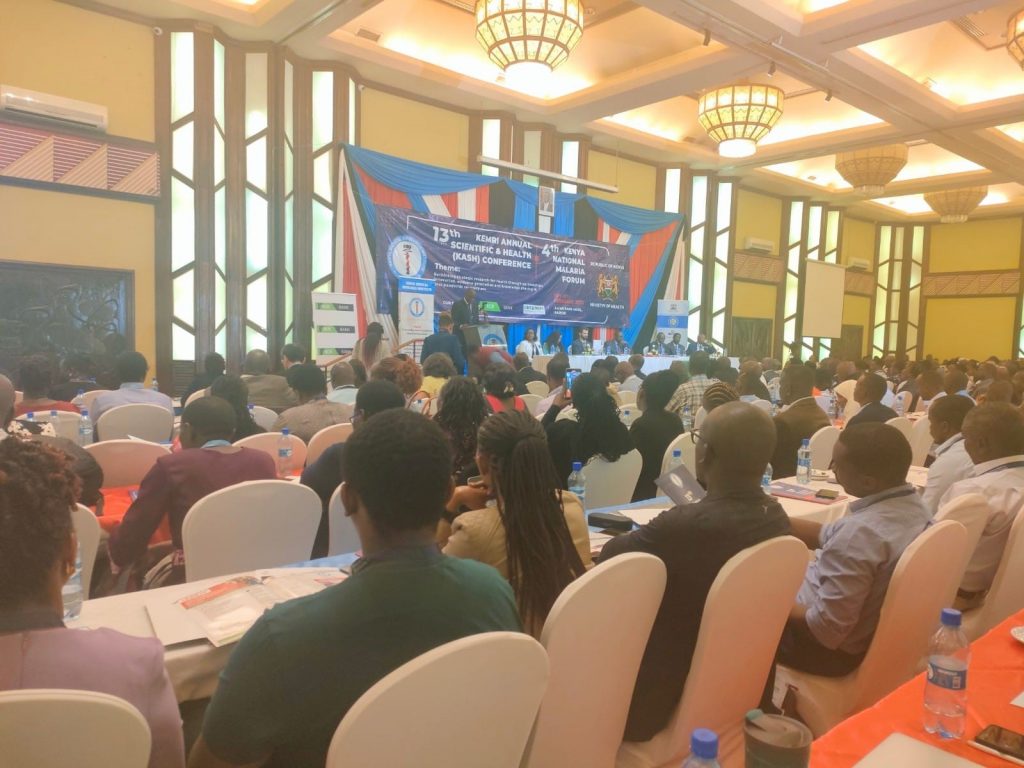 This was a 3 day event held at the safari park Hotel, Nairobi, Kenya from the 15th to 17th February 2023.
Theme Rethinking strategic research for health through partnerships, innovation, evidence generation and knowledge sharing in the pandemic post-recovery recovery era.
The conference main objective was to provide an opportunity for scientists to s hare their research findings, network and interact with their peers and sponsors.
The theme was anchored in 7 sub-themes as follows;
Sustainable health systems, Universal Health Coverage (UHC) and public health strengthening.
Emerging research priorities on mental health and other non-communicable Diseases.
New Frontiers in natural products, drug discoveries and therapeutics
Research for effective management on sexual and reproductive health among adolescent and maternal child health.
Emerging and re-emerging infection sand parasitic diseases.
Advances in genomics,diagnostics,vaccines and innovation in hum an health
,Effects of climate change, environment and one health
1. A mid-term report on Sustainable tungiasis control in Homabay County.
The Project main objective is to reduce the number of tungiasis patients through community training, among other educational activities.so we did a baseline survey mapping and knowledge, Attitude, and practice (KAP) survey, and also continued checking MOH monthly report.
Ms.Kana presented the partners, and study scope, 1.1% (0.0%-5.6%) prevalence rate and the number of severe cases (more than 20 fleas) was high in the elderly, although there were many cases in children.
The findings from these activities were done and a conclusion was drawn as follows;
People who have never been affected by tungiasis are at risk of new affections.
Lack of knowledge about tungiasis leads to discrimination.
For children, school intervention, including teachers and parents, will be critical activities, but for the elderly, we need to approach their households or church intervention.
A comprehensive approach to the community is fundamental.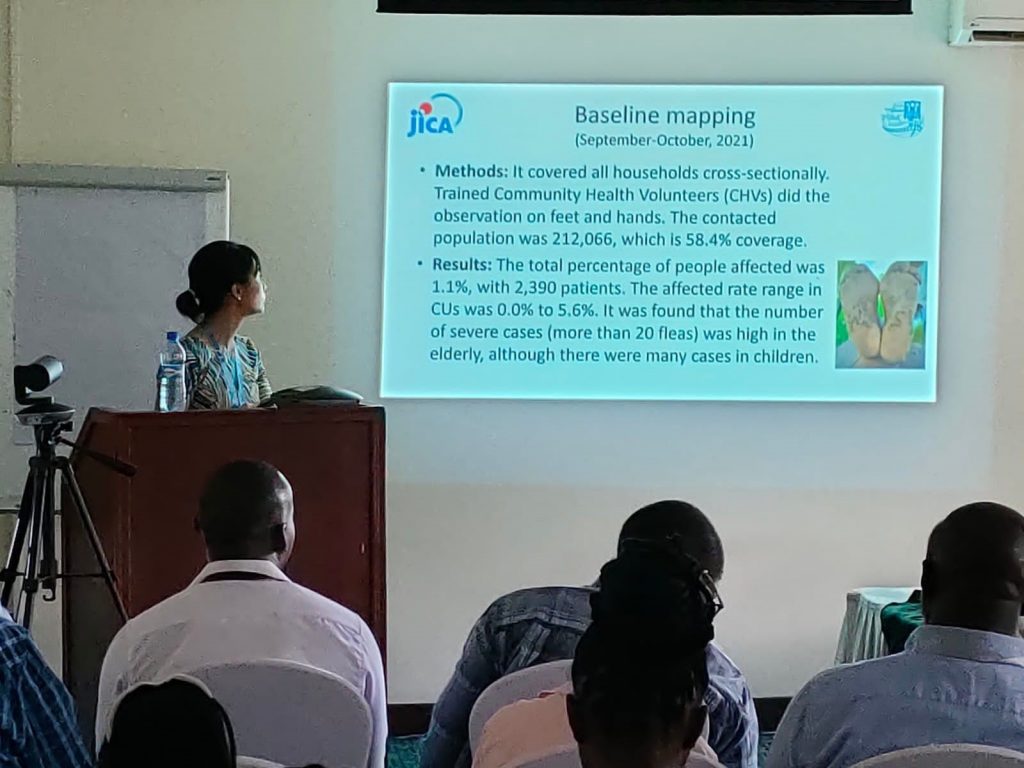 2. Ms.Kana Suzuki (NUITM-JICA) presented; A mixed –methods study of residents treatment seeking behavior on tungiasis in Homabay –county
NUITM-JICA managed to have a mid-term presentations on Tungiasis;
Ms. Kana's findings were as follows;
She used cross-sectional mixed methods (qualitative and quantitative data) to determine the most at-risk population.
19 treatment items were found in the community i.e. thorns, Organophosphorus insecticides, kerosene, local herbs etc.
In addition, effectiveness should be the top consideration in choosing the best treatment.
The excellent combination is a good outcome, fast response, relief of itchiness and pain, and no re-infection.
These 4 points can guide us in considering the treatments for tungiasis
Q&A session
Emphasis on quality behaviour change.
Most effective treatment
Cow dung use is a predisposing factor to tetanus toxoid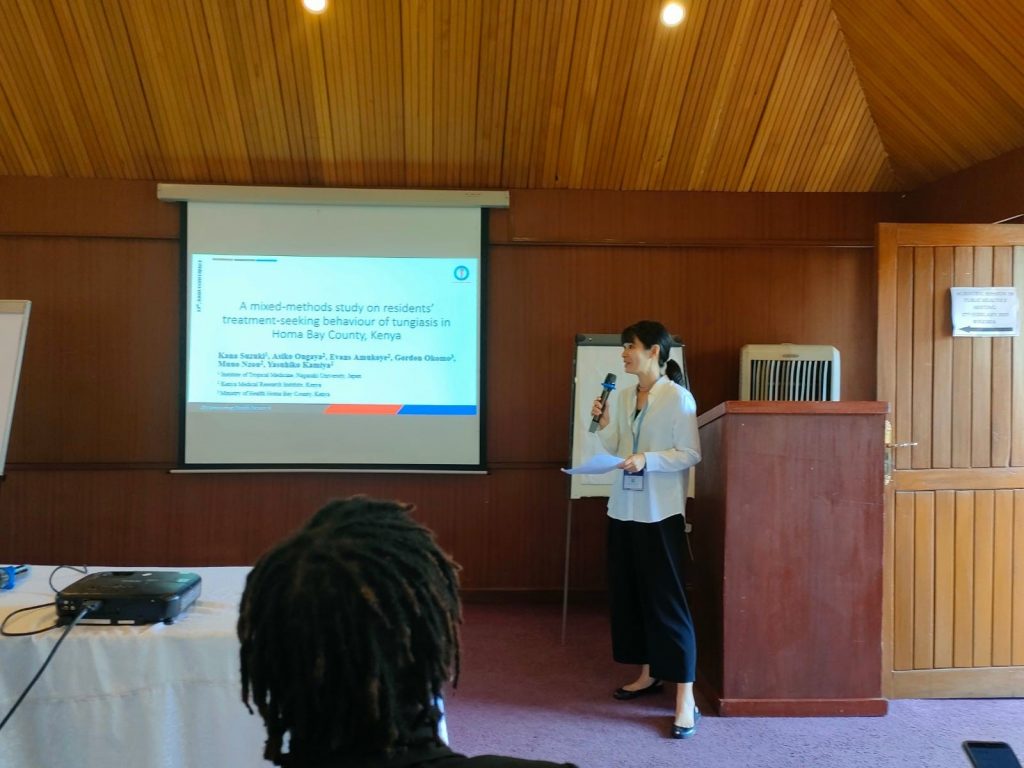 Ms.Kana presenting a mixed –methods study of residents treatment seeking behavior on tungiasis in Homabay –county.