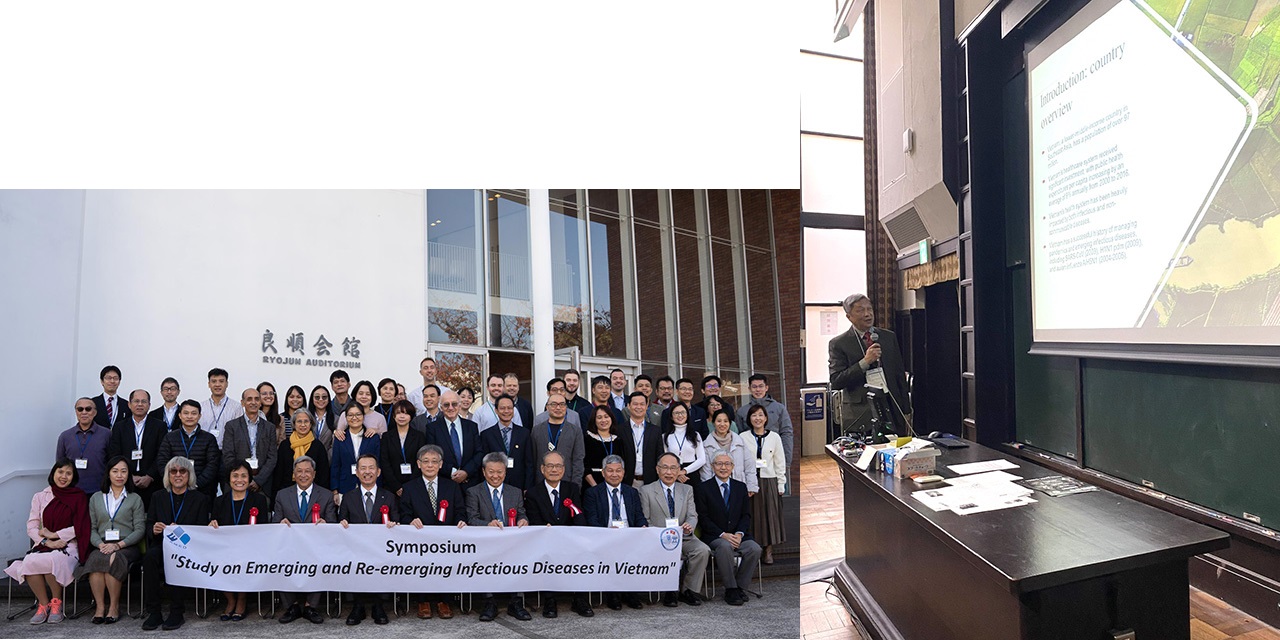 Since 2015, the Japan Initiative for Global Research Network on Infectious Disease (J-GRID) project has been taken over to the newly established Japan Agency for Medical Research and Development (AMED) and J-GRID project, a new five-year project, "Study on Emerging and Re-emerging Infectious Diseases in Vietnam." has been started from 2020. The Vietnam Research Station in the National Institute of Hygiene and Epidemiology (NIHE) in Hanoi is currently manned by 3 staffs from NU, and the Nha Trang sub-station by a permanent staff, in addition to which 21 staff from NU and a further 32 researchers from other research institutions participate in the activities of the Station and conduct research.
Information
The report of the 12th Hanoi Open Lecture has been posted.
notification
Members
Professor

Futoshi Hasebe

Assistant Professor

Taichiro Takemura

Administrative Staff

Itsuki Nagayasu

Assistant

Kazuko Mori(in Nekken)
Activities
The main research topics are dengue fever, infectious diarrhea, influenza, and drug-resistant bacteria, severe childhood pneumonia, zoonotic diseases (bat-derived infectious diseases) and new coronavirus infection (COVID-19) are included to study to contribute to prevention of infectious diseases collaboration with National Center for Global Health and Medicine. In addition, six joint research projects were adopted as research for utilizing the Vietnam Research Station collaboration with the National Institute of Infectious Diseases, Osaka University, Kyoto University, Hokkaido University, Tokai University, and Kumamoto University. An outbreak of COVID-19 occurred in Vietnam in late January 2020, we cooperated with NIHE to conduct a rapid diagnostic method by SARS-CoV-2 specific real time RT-PCR, virus isolation, viral gene analysis, and developed an ELISA system using the N protein of SARS-CoV-2 for COVID-19 serodiagnosis. It was used in sero-epidemiological survey of COVID-19 in Vietnam. On September 30, 2020, a joint web symposium "Research on Infectious diseases in Vietnam and development of application in diagnosis, prevention and treatment" was held between NIHE and Nekken at The ANN Hotel in Hanoi. The Vietnam Research Station has been conducting educational support as an early exposure facility in the Program for Nurturing Global Leaders in Tropical and Emerging Communicable Diseases, and also utilized as an on-the-job-training facility for other researchers from NU and other universities. However, due to the pandemic of COVID-19 in 2020, all overseas training program utilizing the Vietnam Research station and outreach activity such as NU Hanoi public lecture were cancelled.
Recent main research achievement
Buerano et al. Emerg Infect Dis 2020;26(9):2300-2301.
Inagaki et al. J Virol 2020;JVI.00673-20.
Nguyen et al. BMC Infect Dis 2020;20(1):332.
Nguyen et al. J Glob Antimicrob Resist 2020;pii:S2213-7165(20)30125-9.
Maeda et al. J Virol 2020;pii:JVI.00193-20.
Achievement list