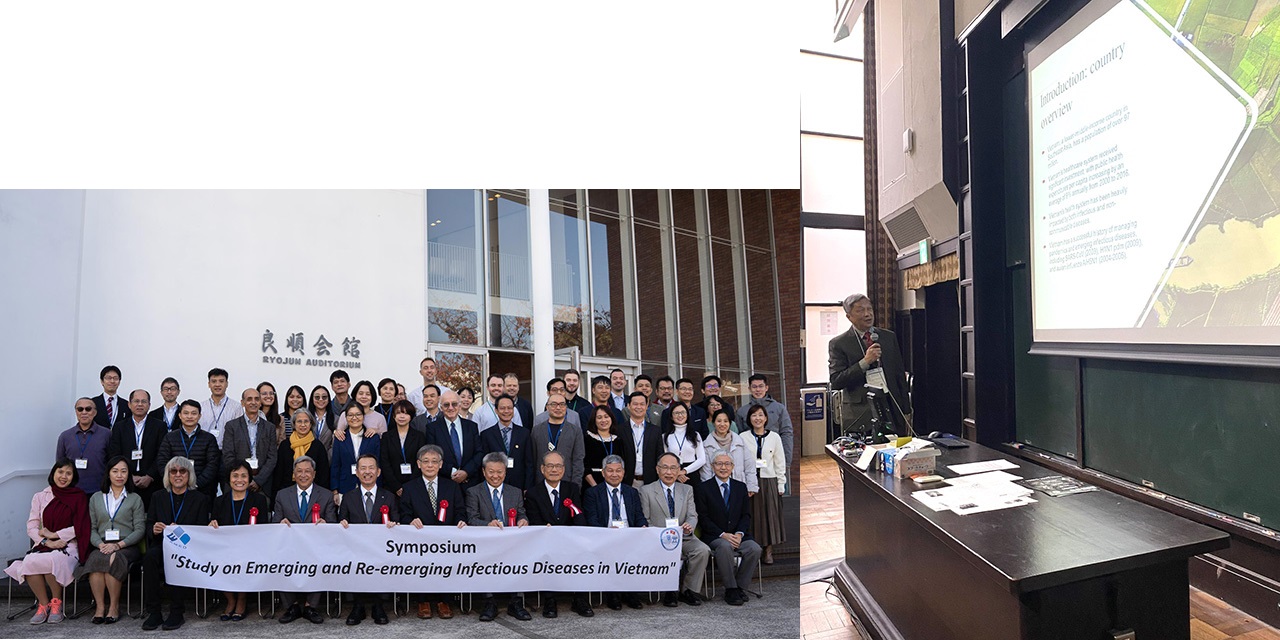 Since 2015, the Japan Initiative for Global Research Network on Infectious Disease(J-GRID) project has been taken over to the newly established Japan Agency for Medical Research and Development(AMED) and J-GRID project, a new five-year project, "Study on Emerging and Re-emerging Infectious Diseases in Vietnam." has been started from 2020. The Vietnam Research Station in the National Institute of Hygiene and Epidemiology(NIHE) in Hanoi is currently manned by 3 staffs from NU, and the Nha Trang sub-station by a permanent staff, in addition to which 30 staff from NU and a further 36 researchers from other research institutions participate in the activities of the Station and conduct research.
Information
The report of the 12th Hanoi Open Lecture has been posted.
notification
Members
Professor

Futoshi Hasebe

Administrative Staff

Itsuki Nagayasu

Assistant

Kazuko Mori(in Nekken)
Activities
The main research topics are dengue fever, infectious diarrhea, influenza, and drug-resistant bacteria, severe childhood pneumonia, zoonotic diseases (bat-derived infectious diseases) and new coronavirus infection (COVID-19) are included to study to contribute to prevention of infectious diseases collaboration with National Center for Global Health and Medicine. In addition, six joint research projects related to COVID-19, flavivirus and HIV were conducted as research for utilizing the Vietnam Research Station collaboration with the National Institute of Infectious Diseases, Osaka University, Kyoto University, Hokkaido University, Tokai University, and Kumamoto University. The Vietnam Research Station has been conducting educational support as an early exposure facility in the Program for Nurturing Global Leaders in Tropical and Emerging Communicable Diseases, and also utilized as an on-the-job-training facility for other researchers from NU and other universities. The Vietnam project has been conducting research that contributes to prevention, diagnosis and treatment for the control of infectious diseases such as dengue fever, influenza and COVID-19 for many years, and also training of human resources in Vietnam. As a result of this, August 20, 2021, the project was awarded the group category of the Foreign Minister's Commendations for FY 2021 in Japan.
Recent main research achievement
Fukuta et al. Int J Environ Res Public Health 2021;18(18):9845.
Mao et al. Pathogens 2021;10(12):1558.
Ngo et al. Trop Med Health 2021;49(1):42.
Yasuda et al. Viruses 2021;13(4):665.
Morales Vargas et al. Infect Genet Evol 2021;90:104764.
Achievement list