Greetings from President
Welcome to NAGASAKI!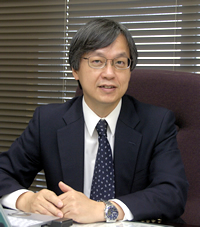 I am Kenji Hirayama who will host this meeting with a big honor.
Our Society has more than 50 year's history and is belonging to the Japanese association of medical sciences. Officially registered members are 650 and we are publishing 4 issues of TROPICAL MEDICINE AND HEALTH per year that is listed in the PubMed Central.
This year I proposed the theme of the meeting 'Paradigm shift from Tropical Medicine to Global health' to emphasize such philosophy is growing so quickly in the whole world. North to south type stereotype cooperation had been already ended and we are gradually moving to the next stage of the cooperation named equal responsibility to the global health. For the new era, our role of academia is getting more and more important. Generation of new idea, new theory, new technology, and new type of professionals are the key issues in the next decade. Hopefully 2013 Nagasaki meeting will be memorized as a turning point of our society.
We look forward to seeing you all in our best season with our colorful cultural background, Okunchi Festival of Suwa shrine, Champon, Castella, Historical Catholic churches, Old international harbor, Cobble Stone Street, Slow street tram, Dejima Dutch small artificial island etc.
April, 2013

54th Annual meeting for the Japanese Society of Tropical Medicine
President Kenji Hirayama
Immunogenetics, NEKKEN, Nagasaki University