当研究室は、「熱帯性ウイルス感染症に関する」WHO研究協力センターに指定されています。
下記に、世界保健機関との間に取り交わされた、当研究室の役割の一部を紹介します。
Terms of Reference:
(1) TO COLLABORATE IN THE EPIDEMIOLOGICAL AND VIROLOGICAL STUDIES ON TROPICAL VIRUS DISEASES;
(2) TO COLLABORATE IN THE RESEARCH AND DEVELOPMENT OF SECOND GENERATION JAPANESE ENCEPHALITIS VACCINE, DENGUE VIRUS VACCINE AND OTHER TROPICAL VIRUS DISEASES VACCINE;
(3) TO COLLABORATE IN THE DEVELOPMENT OF RAPID DIAGNOSTIC METHODS OF TROPICAL VIRUS DISEASES;
(4) TO PROVIDE TRAINING ON LABORATORY DIAGNOSIS AND RESEARCH ON TROPICAL VIRUS DISEASES;
(5) TO REPORT THE RESULTS OF THE STUDIES TO WHO AND PROMOTE THE EXCHANGE OF INFORMATION ON TROPICAL VIRUS DISEASES.

Activities of Centre in Relation to Terms of Reference 1998
1.ssss Research
1.1ss Studies on dengue virus infection in Manila, Philippines
ssssss IgM-capture ELISA was carried out on 181 sera using tetravalent dengue antigen as well as monovalent antigens (D1, D2, D3 or D4).s Results showed that 25 (13.8%) specimens were positive by tetravalent and all monovalent antigens; 28 (15.5%) by tetravalent and three kinds of monovalent antigens; 21 (11.6%) by tetravalent and two monovalent antigens; 17 (9.4%) by tetravalent and one monovalent antigens; 26 (14.4%) by only tetravalent antigen.s Sixty-three (34.8%) specimens were negative to all antigens.s One specimen showed inconclusive result.s It was concluded that tetravalent dengue antigen prepared from infected C6/36 cell culture fluid and containing the four serotypes of the dengue antigen at 25 ELISA units could successfully be used for serodiagnosis of dengue by IgM-capture ELISA.s All serum samples should also be tested concurrently against the control antigen, prepared from uninfected C6/36 cell culture fluid.s This was a collaborative study with St. Luke's Medical Centre and the University of the Philippines (both of Manila).
1.2ss Studies on vascular permeability factors in sera from dengue patients in Jakarta, Indonesia
ssssss Specimens were collected from ten DHF (dengue haemorrhagic fever) grade I, eight DHF grade II, five non-dengue febrile cases, and two healthy individuals.s Results were as follows: levels of IFN-g, TNF-a and IL-6 were elevated in dengue cases compared with non-dengue febrile cases; although levels of these cytokines fluctuated daily, their detection rates were higher in DHF grade II than in DHF grade I cases; no significant correlation was observed among these cytokine levels, IgM-ELISA titres and degrees of fever; and levels of IL-1b did not show any remarkable differences between dengue and control cases.s Results indicated that there was activation of cytotoxic T lymphocytes and macrophage systems, resulting in the release of various cytokines which could trigger vascular permeability and hypovolemic shock in DHF.s The study was carried out in collaboration with the Department of Microbiology, University of Indonesia.
1.3ss Cytokine production from cultured human macrophage lineage cell lines infected with dengue type 2 (D2) viruses
sss sssTwo human myelomonocytic cell lines (U937 and THP-1) and a human T cell line were used in this study.s When necessary, the myelomonocytic cell lines were differentiated by 20nM phorbol myristate in its culture medium.s All cell lines were found to be infected when high input multiplicity of infection was used, accompanied by production of infective viruses in the culture supernatant two to three days after infection.s Differentiated U937 cell line was found to be more highly infected than its undifferentiated counterpart.s Enhanced infection by sub-neutralizing antibodies was confirmed in this system.s Production of TNF-a in the infected U937 cell culture supernatant was demonstrated one to three days after infection.
1.4ss Comparative nucleotide and deduced amino acid sequences in D2 virus strains isolated from patients showing different clinical manifestations
ssssss Total of 19 strains were analysed: one from dengue shock syndrome (DSS); 13 from DHF grade I or II; and five from dengue fever cases.s Results indicated that the secondary infection with subtype 1 virus could be most severe (DSS).s While infection with subtype 2 virus leads to DHF in secondary infection, its primary infection could be mild.s On the other hand, infection with subtype 3 virus could be mild irrespective of its antibody response, primary or secondary.s There was significant difference among eight isolates in their predicted secondary structures in the 3'-non-coding region.
1.5ss RNA-dependent RNA polymerase (RdRp) activity of Japanese encephalitis virus (JEV) NS5 protein expressed by recombinant Escherichia coli
ssssss In vitro RdRp activity was demonstrated for JEV-NS5F but not for the truncated form (JEV-NS5S), indicating that integrity of the protein was required for RdRp activity of JEV NS5 protein.
1.6ss Inactivation of dengue antigens prepared as infected C6/36 cell culture fluid
ssssss Non-ionic detergents such as Nonidet P-40 or Triton X-100 were able to disrupt the envelope structures of dengue and JE viruses and destroy the infectivity of these viruses.s However, these reagents also reduced their antigenicities in the IgM-capture ELISA although their antigen titres in the sandwich ELISA were not significantly affected.s The virus infectivity was successfully inactivated by heating at 56oC for three to five minutes without losing much antigenicity.s This method, therefore, could be used to prepare biologically-safe antigens of dengue and JE.
1.7ss Studies on GB virus C/hepatitis G virus (HGV) in Japanese patients with sporadic acute non A-E hepatitis
ssssss Total of 72 cases were examined, of which 70 were acute hepatitis and two were fulminant hepatitis cases.s RNA was extracted from their sera and examined for HGV genome by the RT-PCR.s Positive signal was obtained for seven acute hepatitis and one fulminant hepatitis cases.s The viral genome detection became negative during the transition period from acute to chronic stage.s Limited sequence analysis on the HGV genome showed that all strains were classified into Asian genotype.
2.ssss Training
2.1ss Seventeen students from Indonesia(1), Japan (12), Kenya (1), Peru (1) and the Philippines (2) received training at the Centre for different duration of time.
2.2ss There were four students from Argentina, Nepal, Philippines and Thailand studying for their doctorate degrees.s The two from the Philippines and Thailand successfully defended their theses and received their degrees.
3.ssss Specific activities
3.1ss A request was received from the Life Science Institute, Morioka, Japan, to test 22 serum and 21 cerebrospinal fluid samples from nine encephalitis cases in Bali, Indonesia.s Antibodies to JE were found in eight of nine cases, confirming the presence of JE activity in Bali.
3.2ss Four Japanese institutions had requested for virological confirmation on imported dengue cases.s Serodiagnosis by IgM-ELISA confirmed that all cases were infected with dengue virus.s They all had history of travelling to south-east Asia.
3.3ss Seven papers were published in 1998.
3.4ss Four presentations were made at international and four at national conferences during the reporting period.

前のページへ戻る。
世界保健機関西太平洋地域事務局

WHOはどんな機関?
The World Health Organization,

the United Nations specialized agency for health, was established on 7 April 1948. WHO's objective, as set out in its Constitution, is the attainment by all peoples of the highest possible level of health. Health is defined in WHO's Constitution as a state of complete physical, mental and social well-being and not merely the absence of disease or infirmity.
WHO is governed by 192 Member States through the World Health Assembly. The Health Assembly is composed of representatives from WHO's Member States. The main tasks of the World Health Assembly are to approve the WHO programme and the budget for the following biennium and to decide major policy questions.
WHO研究協力センターの役割は?
Collaborating Center appointment by WHO indicates that an organization contributes to WHO's public health mission by providing specialized knowledge, expertise, and support in the health field to WHO and its member nations. Terms of reference, agreed upon by WHO and the Collaborating Center, define the role and responsibilities of a center.
原文はこちら。
左記英文の原文は、こちらでご覧になれます。
---

ホームページに関するご意見、ご要望は、ホームページ担当窓口までお寄せください。
Denguenet Meeting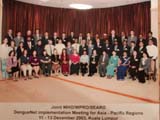 Denguenet
Meeting, Kuala Lumpur, Malaysia.
(平成15年12月11か