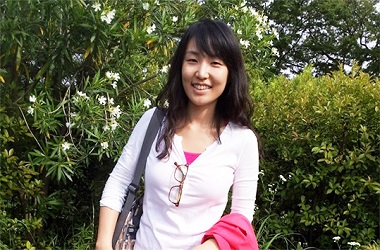 助教

金 允姫 (きむ ゆんひ)

キーワード

環境疫学、気候変動、大気汚染

略歴

 
2015年12月 長崎大学熱帯医学研究所 小児感染症学 助教
2014-2015年 長崎大学熱帯医学研究所 小児感染症学 博士研究員
2013-2014年 ソウル大学校医学部予防医学科 博士研究員
2013年 ソウル大学校公衆衛生大学院博士課程 修了
2012年 筑波大学体育系 研究員
2009年 ソウル大学校公衆衛生大学院修士課程 修了
2006-2007年 延世原州医科大学 リサーチアシスタント
2002-2006年 延世原州医科大学
資格
主要業績

Kim Y

, Gasparrini A, Hashizume M, Honda Y, Ng CFS, Armstrong B. Heat-related mortality in Japan after the 2011 Fukushima disaster: An analysis of potential influence of reduced electricity consumption. Environ Health Perspect. doi:10.1289/EHP493. (in press)
Imai C, Cheong HK, Kim H, Honda Y, Eum JH, Kim CT, Kim JS,

Kim Y

, Behera SK, Hassan MN, Nealon J, Chung H, Hashizume M. Associations between malaria and local and global climate variability in five regions in Papua New Guinea. Trop Med Health. 2016:44;23

Kim Y

, Kim H, Hong Y-C. Transmission of energy-saving efficiency from obese parents to their offspring: the Korean National Health and Nutrition Examination Survey 2007-2011. European Journal of Clinical Nutrition 2016 Apr;70(4):511-516.

Kim Y

, Kim H, Honda Y, Guo YL, Chen B-Y, Woo J-M, Ebi KL. Suicide and ambient temperature in East Asian countries: A time-stratified case-crossover analysis. Environmental Health Perspectives 2016:124(1);75-80. [Full text]
Lim YH, Park MS,

Kim Y

, Kim H, Hong YC. Effects of cold and hot temperature on dehydration: a mechanism of cardiovascular burden. International Journal of Biometeorology. 2015:59(8);1035-1043.
Grace I. Davies, Lachlan McIver,

Yoonhee Kim

, Masahiro Hashizume, Steven Iddings, Vibol Chan. Water-Borne Diseases and Extreme Weather Events in Cambodia: Review of Impacts and Implications of Climate Change. Int J Environ Res Public Health 2015;12(1):191-213. doi:10.3390/ijerph120100191
Yong-Keum Choi, Deok-Young Park,

Yoonhee Kim

. Relationship between Prosthodontic Status and Nutritional Intake in the Elderly in Korea: National Health and Nutrition Examination Survey (NHANES IV). International journal of dental hygiene 2014;12(4):287-290. doi: 10.1111/idh.12066.
Hyung-yun Choi, Young-Eun Yi,

Yoon-hee Kim

, Ho Kim. The practical application of the complex sample survey design in Korea: based on Korean research project on the integrated exposure assessment to hazardous material for food safety (KRIEFS). Journal of the Korean Data Analysis Society 2013;15(4):1893-1902.

Yoonhee Kim

, Ho Kim, Sang-Do Shin, Yun-Chul Hong. Different influence of outdoor temperature on traumatic and non-traumatic injuries. The Journal of Trauma and Acute Surgery 2012;73(4):944-949.

Yoonhee Kim

, Ho Kim, Dong-Sik Kim. Association between daily environmental temperature and suicide mortality in Korea (2001-2005). Psychiatry Research 2011;186:390-396.
Sun-Ok Jang,

Yoon-Hee Kim

, Jung-Yun Kang, Min-Seo Ko, Bo-Yon Kim, Ji-Hae Park, Seo-Youn Shim, Sang-Hoon Kim, Won-Gyun Chung. Smoking Patterns, Oral Health Behavior and Perception of the South Korean Army. Journal of Dental Hygiene Science 2010;10(3):131-139.
Yoon HI, Hong YC, Cho SH, Kim H,

Kim YH

, Sohn JR, Kwon M, Park SH, Cho MH, Cheong HK. Exposure to volatile organic compounds and loss of pulmonary function in the elderly. European respiratory journal 2010;36(6):1270-1276.
Yun-Chul Hong, Xiao-Chuan Pan, Su-Young Kim, Kwangsik Park, Eun-Jung Park, Xiaobin Jin, Seung-Muk Yi,

Yoon-Hee Kim

, Choong-Hee Park, Sanghwan Song, Ho Kim. Asian Dust Storm and pulmonary function of school children in Seoul. Science of the Total Environment 2010;408:745-759.
Sanghyuk Bae, Xiao-Chuan Pan, Su-Young Kim, Kwangsik Park,

Yoon-Hee Kim

, Ho Kim, and Yun-Chul Hong. Exposures to Particulate Matter and Polycyclic Aromatic Hydrocarbons and Oxidative Stress in Schoolchildren. Environ Health Perspect 2010;118(4):579-583.